Eco-Club
---
---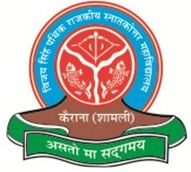 Eco Club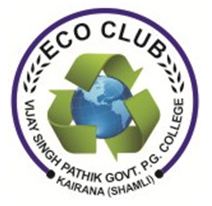 VIJAY SINGH PATHIK GOVERNMENT (PG) COLLEGE, KAIRANA (SHAMLI)
Important Notice
Dear Students,
I feel great pleasure to announce that recently an Eco-club has been established in our college. This club will work to aware the students about the present environmental problems and to tackle them in eco-friendly manner. I personally invite you all to be part of this great initiative. Your active participation and suggestions will help to carry out the activities under this platform to meet the objectives of this club. If you have any article, news or poster related to environment, please contact me. Your contribution will be displayed on Eco-club's notice board. You can take membership form also from the office of undersigned to become life member of the Eco-club.
प्रिय छात्र एवं छात्राओ,
यह सूचित करते हुए मै बहुत हीहर्षका अनुभव कर रहा हॅू कि आपके महाविद्यालय में हाल ही में इकोक्लब (पर्यावरण क्लब) की स्थापना हुई है। इस क्लब का मुख्य उददेश्य छात्रों को आधुनिक पर्यावरण सम्बन्धित समस्याओं के बारे में अवगत कराना तथा उनके निराकरण के बारे में जागरूक करना है। मैं ब्यक्तिगत रूप सें सभी को इस मुहिम में शामिल होने के लिए आमंत्रित करता ह हूँ। आपका सक्रिय सहयोग तथा आपके सुझाव इस क्लब के उददेश्यों को पूरा करने में अति सहायकसिद्व होगे। यदि आपके पास कोई रचना, सूचना या पोस्टर आदि हो तो हमारे कार्यालय में अवश्य सम्पर्क करें, आपकी दी हुई रचना अथवा सूचना कोक्लब के नोटिस बोर्ड पर प्रदर्शित की जायेगी।  यदि आप इस क्लब के साथ जुड़ना चाहतें है तो कार्यालय से सदस्यता आवेदन पत्र प्राप्त कर लें।
धन्यवाद।
डा0 राकेश कुमार
प्रभारी, इकोक्लब
About Eco club
Meaning
Eco Club is a platform where we get knowledge about environment. Eco Club enables the students to be sensitive towards environmental concern to tackle environmental problems.
The main objectives of ECO CLUB are:
To organise seminars, debates, lectures and popular talks on environmental issues in the college.
Campaign against banned carry bags, use of loud speakers, banned fire works, recycling of glass and metals, filling of water body in the adjacent area, use of unnecessary horns.
Field visit to environmentally important sites including polluted and degraded sites, wildlife parks, etc.
To organise rallies, marches, human chains and street theatre at public places with a view to spread environmental awareness.
Action based activities like tree plantation, cleanliness drives both within and outside the college campus.
To grow kitchen gardens, maintain ermin-composting pits, construct water harvesting structures in college, practice paper recycling etc.
To prepare inventories of polluting sources and forward it to enforcement agencies.

Maintenance of public places like parks, gardens both within and out side the college campus.

To mobilise action against environmentally unsound practices like garbage disposal in unauthorised places, unsafe disposal of hospital wastes etc.
To beautify college campus and selected road side area with plants and flowers and put campaign boards to generate awareness.
Any other innovative programme on environmental issues.
Proposed Activities for Academic session 2019-20
Earth Day celebration.
Community Service Projects.
Litter cleanups of garden and open spaces (inside College).
Compositing.
Vanmahotsava celebration.
Poster making competition.
Distinguish waste [biodegradable and non-biodegradable].
Earth Hour celebration.
Campaign for judicious use of natural resources like water, forest products and soil etc.